Rabbi Matityahu Kahn was born and raised in the Jerusalem area to parents who made Aliyah from Brooklyn on the last day of their Sheva Brachot. After high school, he studied in Yeshivat Otniel's Hesder army program and served in the IDF as a paratrooper. He holds a B.A. in Talmud and Jewish Philosophy from Herzog College, an M.A. in Jewish Philosophy from Ben Gurion University and rabbinic ordination from the Chief Rabbinate.   Before his work at Princeton, he taught at the Yeshivat Otniel and joined the staff of the Chavruta Beit Midrash Program in Hebrew University.
Rabbi Ma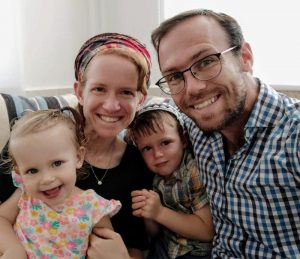 tityahu (you can call him Rav Mati) loves to hike, learn and go crazy with his kids. He looks forward to hearing new perspectives in Jewish learning and drinking a lot of coffee while chatting with students.
Shira Kahn was born in Jerusalem and raised in Chashmonaim. She fell in love with the world of Torah learning while studying with her father for her Bat Mitzvah and in the Beit Midrash program in her high school. After high school, Shira completed two years of national service at "Livnot u'lehibanot" in Tsfat where she guided tours, learned with program participants and led volunteer work for Birthright groups. She then spent two years learning in the Migdal Oz Beit Midrash and enjoyed the intense exposure to Talmud and Chasidut.  Shira holds a B.A in law from Bar Ilan University. She completed her law internship in the State Attorney's office and since then has been working as a lawyer and researcher in the Kohelet Policy Forum.
Shira loves to dance, try interesting foods, travel and relax at the beach. She is excited that Torah learning will again become a central part of her everyday life. She looks forward to hearing how you understand the unique stories of the Gemarah, and well, she loves good coffee too.